We're excited to announce our brand new Pro Player Masterclass, we have teamed up with the 2022 Commonwealth Champion and Indian table tennis legend Sharath Kamal Achanta! Kamal joins TableTennisDaily coaches Dan and Tom to show you how you can develop and master a deadly forehand and short game like his. Kamal has a highest world ranking of 30, he has recently won the commonwealth games singles for a 2nd time and is also a record breaking 10 times Indian national champion!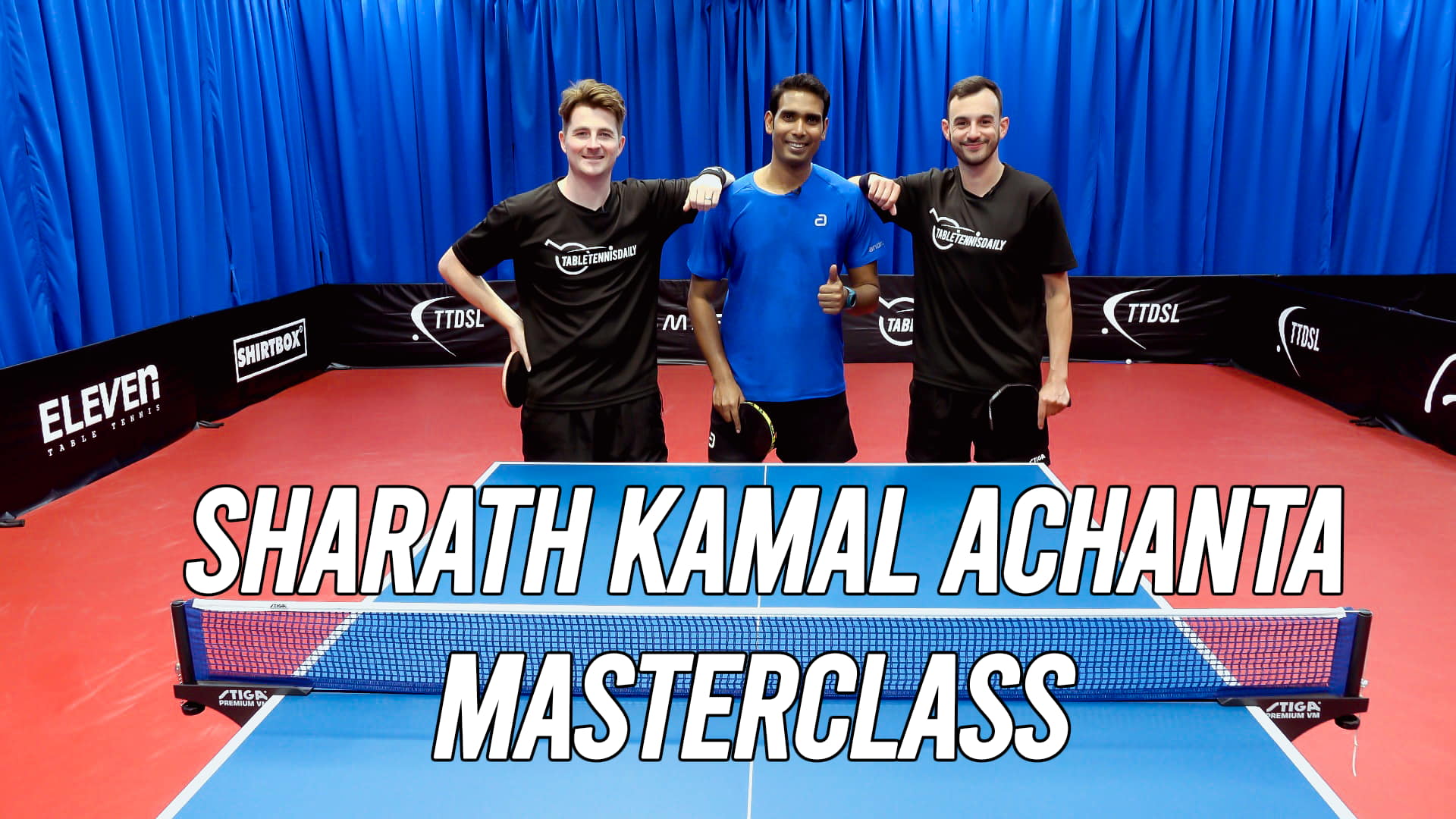 In this masterclass we have teamed up with Kamal to take an in depth look at his lethal forehand and dominant touch play that he is well known for. You'll receive coaching, detailed demonstrations, tips, and advice from the man himself.
This masterclass will show you the fundamental points to build your own world class forehand, making you more of a threat against your opposition. The forehand topspin is still a key shot in the modern game to be able to dominate the opponents, attack with power and direct the ball into difficult areas. Other areas of the game Kamal feels are important to develop are also covered in this masterclass including the active backhand block and how to deal with pressure. We get a fascinating insight from Kamal as he talks through and demonstrates in detail all the technical elements, skills, and knowledge you need to learn his phenomenal forehand, short play and more.
So sign up today and join us with Kamal in his masterclass to take your game to the next level and win more matches!
INCLUDED IN THIS MASTERCLASS:
The forehand topspin
Importance of wrist action and contact
Forehand topspin training drills
The forehand topspin against backspin
The half long forehand
The Active backhand block
How to forehand counter
Dominating the short game
Kamal's serving secrets
BONUS VIDEOS:
Mental preparation
Dealing with pressure
How to warm up like a pro
The Sharath Kamal Achanta Masterclass is a one-off payment, which means you will have access to the videos for life. So if you want to develop a dynamic winning forehand and high quality short game, as well as much more, then join Kamal, Dan and Tom at the table and unlock your potential! This Masterclass is available now and we also currently have our Black Friday Sale live until Monday. So don't miss your chance to get a huge 50% discount on all our Academy Masterclasses and memberships for a limited time only! 💻⚠️
Simply sign up using the coupon code:  TTDBlackFriday22 
Access the Masterclass here.
Lastly to announce our 3 winners who guessed correctly that our Pro Player was Kamal Achanta! These are: TTD Academy user Schmetterhand, Instagram user @Damianzech and Instagram user @saim.time to claim your free Masterclass just email us at [email protected] 💪💥