The answer to the title question is… because we love coaching you!
We love helping you achieve your table tennis goals. Whether that is to get to a stage where you can compete with your friends or if you're trying to improve your national ranking. We have been coaching for what feels like forever. It's almost as if it's part of our DNA. We have been lucky enough to be coached by some incredible coaches in the past as well. It doesn't matter if you're the best the world has ever seen. Everybody needs a coach and it's not just us that thinks so.
"Everyone needs a coach. It doesn't matter whether you're a basketball player, a tennis player, a gymnast or a bridge player." – Bill Gates
Everyone Needs A Coach
Everyone needs guidance and feedback to help them develop. Roger Federer still has a coach. Lionel Messi still has a coach. Ma Long still has a coach. Surely if someone is 'the best in the world' there couldn't possibly be anything else for them to learn. Especially from someone not as good as them.
This is simply not true.
A coach can offer a different perspective from your own and is able to provide feedback that is different to your own internal observations. This analysis and feedback is a part of coaching that we love to help you with over in Coach's Corner.
We want to see how you move and play. What challenges are you facing? What barriers are stopping you from improving? We want to provide that external feedback and add value to your own learning journey that you are immersed in.
As players and constantly learning coaches we have likely already solved similar problems to yours already. Years of playing experience, added to years of coaching experience; combined with our passion for helping you has led us to build what is an incredible environment for learning and developing. Don't just take it from us. Read what our members have to says.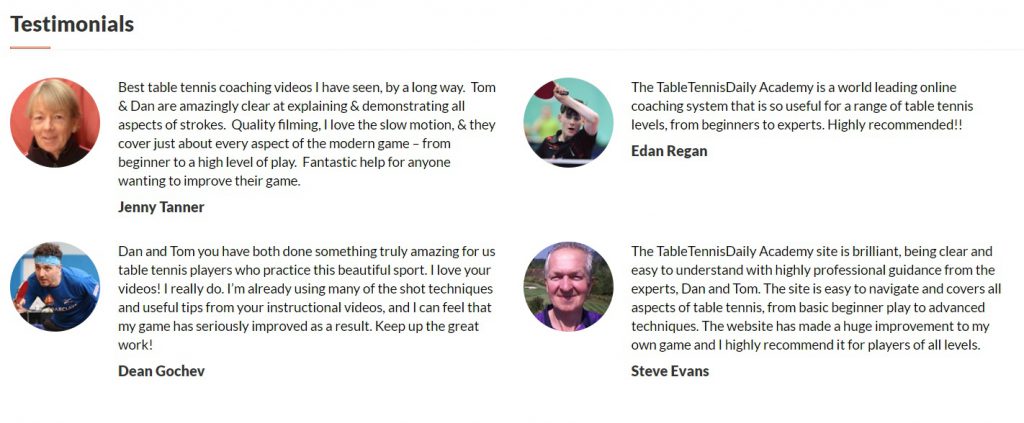 Finally, we would like to thank everyone that has given us the privilege of coaching them. Whether that is face-to-face, in Coach's Corner or even if you have just seen some of our videos on YouTube. We have enjoyed every second of connecting with you and feel incredibly grateful to be a part of your individual table tennis journey.